WPC Foam Board Machine Line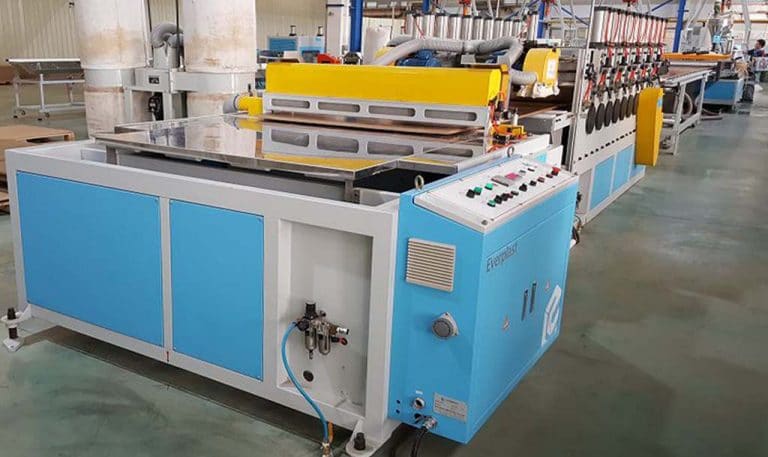 The WPC foam board extruding machine line adopts an EMD-110 parallel twin-screw extruder. The output reaches 200~400kg/hr (the actual output varies depending on the formula or product size), which can produce finished products with the width of L2440xW1220xT18mm, mainly use for interior wall panels and furniture panels. We have a unique PVC powder/calcium carbonate/rice hull mixing ratio formula to not only reduce the screw speed but increases the feeding speed making the output more even, and the surface of the finished product smoother. Because of the humidity of the rice husk powder, Everplast provides a dehumidifying dryer and a hot air fan to effectively control the moisture content of the rice husk powder and the temperature of the mold temperature to solve the orange peel on the surface of the finished product.
Features of Everplast machine:
1. Provide whole plant equipment, including automatic mixing cooling system
2. Human-machine interface operation more convenient
3. The vacuum pumping system pumps out excess water vapor
4. Customized T-shaped mold and flow channel design of 2-in-1 joint
5. The stable cooling system increases production speed
6. Cooling mold fixture, ease of operation with different thickness
EMD 110 WPC Foam Board Machine Line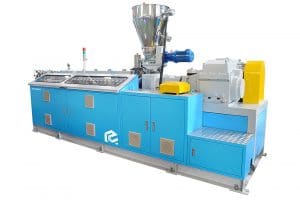 Parallel Type Twin Screw Extruder Machine We provide the EMD-65 ~ EMD-130 parallel twin-screw extruder machine of different models for customer needs. Send Products Inquiry FEATURES PVC twin screw extruder available in sizes of EMD-65, EMD-90 and EMD-130 for profile ...
READ MORE…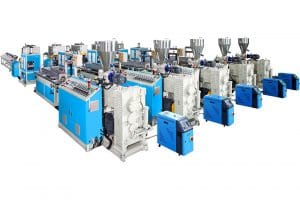 WPC Extrusion Machine Line Our new generation high-level WPC Extrusion Machine Line can produce products close to real wood grain color as well as proceeding double layered co-extrusion at the same time. The wood products are more suitable for the ...
READ MORE…
Send Products Inquiry to Us
To provide with better services, pleaser fill out the form below.