EMD-75+EMS-45 WPC Machine Line
Testing EMD-75+EMS-45 WPC Machine Line in Czech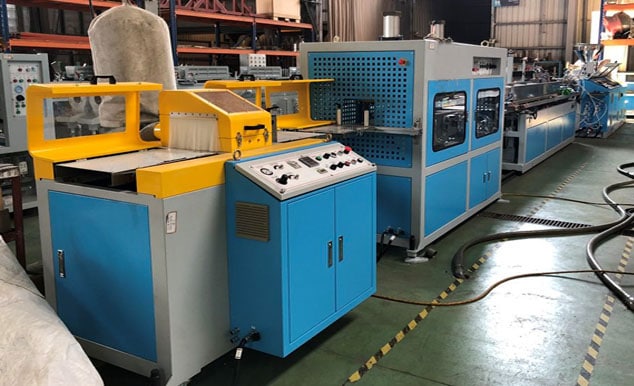 Last month, customer from Czech Republic came to test the EMD-75 + EMS-45 WPC machine line. The customer is a large manufacturer of WPC building material in Czech Republic, and has its brand of building materials.
EVERPLAST has a wealth of experience in the field of plastic-wood profile. Plastic-wood products can be divided into PVC, PE, PP, PS, ABS, and even PBT, PET are actively being developed by manufacturers. PVC plastic wood is non-flammable but less environmental-friendly; PE plastic wood has the largest amount of use, but the material has an oily wax texture, low heat resistance, poor foaming, poor printability, and large shrinkage of the finished product; PP plastic wood, on the other hand, can withstand high temperatures and the texture of the material is waxy; PS plastic wood has a higher heat-resistant temperature and higher nail withdrawal strength. Because the material is relatively rigid, although the secondary processing and cutting seem a bit questionable, the appearance and texture are the same as that of a wood, which can go without post-processing to achieve an imitation of real wood.
The EMD-75 machine line is based on PVC formula and is made into floor building materials. EVERPLAST machine line has an output of 80-100KG / hr and a line speed of 0.5m / min. In terms of the EMS-45 co-extrusion machine, customers required thickness is between 2-3mm so that after the back-end process of brushing and embossing, the surface will be flat. After the test, the customer was also very satisfied with the performance.
In terms of WPC machine lines, EVERPLAST provides whole plant planning. From the source milling and mixing system, compounding system, extrusion machine line, to even the back-end process of sanding, printing, and embossing, all are tailored to customers' needs.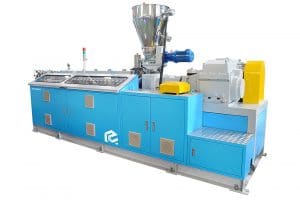 Parallel Type Twin Screw Extruder Machine We provide the EMD-65 ~ EMD-130 parallel twin-screw extruder machine of different models for customer needs. Send Products Inquiry FEATURES PVC twin screw extruder available in sizes of EMD-65, EMD-90 and EMD-130 for profile ...
READ MORE…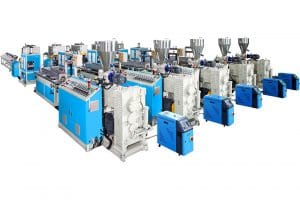 WPC Extrusion Machine Line Our new generation high-level WPC Extrusion Machine Line can produce products close to real wood grain color as well as proceeding double layered co-extrusion at the same time. The wood products are more suitable for the ...
READ MORE…
Send Products Inquiry to Us
To provide with better services, pleaser fill out the form below.