PE Silicon Pipe Extrusion Line
Testing PE Silicon Pipe Extrusion Line in Guinea
PE silicon pipe is commonly used for opitcal fiber application. Since optical fiber is difficult to be connected together, the pipe must be winded 500 to 1000 meters per roller in order to reach the length requirement. All the controlling datas must be stable while producing this kind of pipe,and that is why the customer chooses Everplast. Everplast machinery are well-known for its strong performance, it has supplied PE Silicon pipe extusion line for 10 years plus 2 lines was just installed in Africa last month.
set up date: 2016/03
PI/PH: 1PI15183
EMS 6533 PE Pipe125 250mm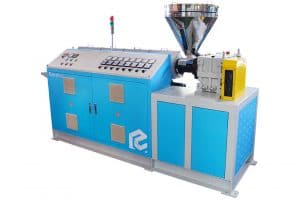 SINGLE SCREW EXTRUDER MACHINE We provide EMS-15 ~ EMS-200 different models of single screw extruder for customer needs. Send Products Inquiry FEATURES PVC counter rotating twin extruder available in sizes of EMD-65, EMD-90 and EMD-130 for profile and compounding, output ...
READ MORE...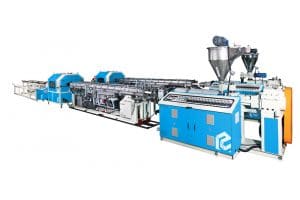 pipe Extrusion Machine Line The pipe extrusion line uses materials such as PVC, HDPE, LDPE, PE, PP, ABS, PS, PC and PMMA to extrude products in accordance to market needs and the characteristics of the plastic materials. Send Products Inquiry ...
READ MORE…
Send Products Inquiry to Us
To provide with better services, pleaser fill out the form below.