EMD-90 Compounding System
Testing EMD-90 Compounding System in Thailand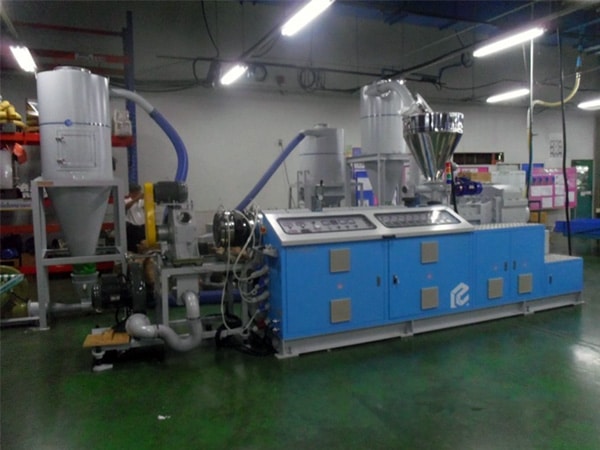 EVERPLAST successfully installed a PVC compounding line for a Japanese customer whose factory is located in Thailand. This is the third line that EVERPLAST has supplied to the customer to support their projects since 2013. This Japanese customer has already bought more than 30 machine lines from the U.S, with the experiences from their previous purchases, the details of machines have become very important when considering new machine line which has to fit the new and specific production requirement. Everplast Machinery is the best choice of this customer since the company has more than 1/4 of personal are machine designer, also the efficient and quality assembling technician always successfully satisfy all customer requirement in a good timing manner.
In this case, some special requirements were demanded by the customer, such as the powder mixing screw design, the cleaning operation details when changing color , and the precision and evenness of the pellet size. After having discussion, Everplast successfully reached all requirements. Working with business partners around the word help EVERPLAST to improve a lot in the PVC compounding technology field and win the market trust.
set up date: 2016
PI/PH: 1PI15095/1PH15087
EMD 90 CPVC Compound 200 300kg hr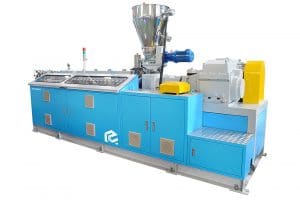 Parallel Type Twin Screw Extruder Machine We provide the EMD-65 ~ EMD-130 parallel twin-screw extruder machine of different models for customer needs. Send Products Inquiry FEATURES PVC twin screw extruder available in sizes of EMD-65, EMD-90 and EMD-130 for profile ...
READ MORE…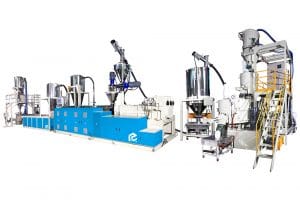 COMPOUNDING & PELLETIZING SYSTEM All compounding & pelletizing system incorporate proven process engineered feed screw designs with optional venting, side feeding and complete process feed systems for volumetric, gravimetric weigh blending or starve feeding of the materials provided as required ...
READ MORE…
Send Products Inquiry to Us
To provide with better services, pleaser fill out the form below.