PVC/TPV Car Gasket Machine Line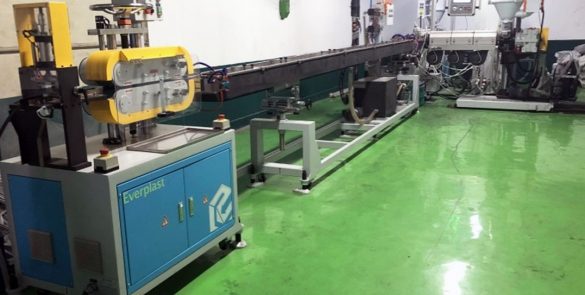 Taiwan Everplast has recently received many orders of PVC/TPV Car Gasket Machine Line. The gasket can be used in a wide range of fields and most of which is used in the automotive industry, construction materials, home appliances, etc. Hence, the availability has bolstered its popularity in the extrusion market.
This time, the customer we went for machinery installation is a manufacturer in India that specializes in the production of car gasket. Their primary target market is the largest Indian automobile company; therefore, the bar is set high for the quality of gasket produced. Based on the customer's extensive experience in plastics  extrusion, Everplast and its extrusion machine line have not only been deemed reliable but also used in the long-term due to its ease of maintenance comparing to the majority of the extruders on the market.
Everplast's machines can be customized accordingly to the needs of customers, allowing customers to mix and match existing machine equipment at their disposal. We specifically designed a screw that suits two particular kinds of plastic materials (soft PVC / TPV ).
In addition to saving the investment cost, it can also increase the utilization rate. The machine line can be operated in conjunction with both the cutter machine and cutting units to meet the tolerances in different production speed. The fact that the cutting units in cooperation with servo motor can maintain product tolerance at ±1mm has gone above and beyond customers' expectations.
EMS 55 TPV Gasket Extrusion Line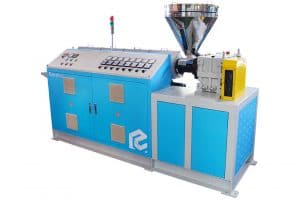 SINGLE SCREW EXTRUDER MACHINE We provide EMS-15 ~ EMS-200 different models of single screw extruder for customer needs. Send Products Inquiry FEATURES PVC counter rotating twin extruder available in sizes of EMD-65, EMD-90 and EMD-130 for profile and compounding, output ...
READ MORE...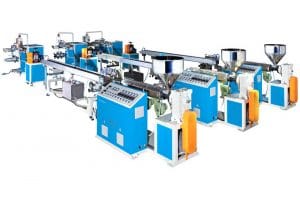 plastic PROFILE EXTRUSION MACHINE LINE Everplast plastic profile extrusion machine line can produce plastic products that can be applied in a wide range of industries, including building materials, stationery, furniture, medical equipment, and home appliances, etc.Everplast offers a complete line ...
READ MORE...
Send Products Inquiry to Us
To provide with better services, pleaser fill out the form below.