90mm PVC Compounding Line
Testing EMD-90 90mm Parallel Type Twin Screw PVC Compounding Line in Vietnam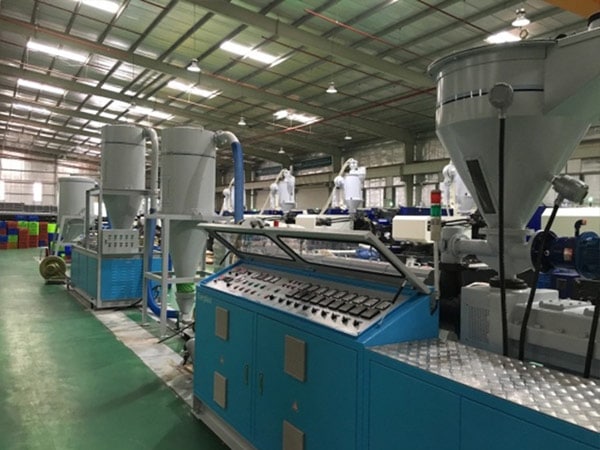 Everplast had just successfully installed a rigid PVC system in Vietnam for our new customer.
With our arrangement, the customer would operate the machine line easily step by step.
1.Mixing PVC powder with additives by the mixer
2.Transfering the mixed materail to extruder
3.Pelletizing.
In this case, the PVC pellet would be used as the material of PVC pipe fitting injection machine.
This compounding line could reach the demanded output from 350kg to 450kg/hr with very good melting performacne at the extruder, and the even sized pellet at the pelletizer.
The quallity pellets from the compounding line allow our customer to operate their injection machine smoothly and also produce better pipe fitting product.
In addition, with Everplast's compunding system, the customer could save around 30% material cost by producing the PVC pellets themselves.
EMD 75 PVC Compound150 300kg hr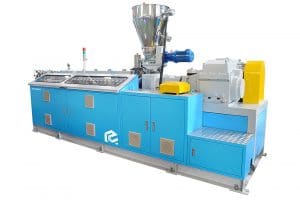 Parallel Type Twin Screw Extruder Machine We provide the EMD-65 ~ EMD-130 parallel twin-screw extruder machine of different models for customer needs. Send Products Inquiry FEATURES PVC twin screw extruder available in sizes of EMD-65, EMD-90 and EMD-130 for profile ...
READ MORE…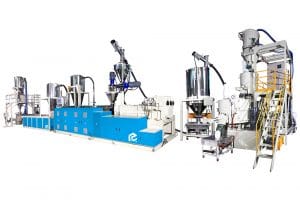 COMPOUNDING & PELLETIZING SYSTEM All compounding & pelletizing system incorporate proven process engineered feed screw designs with optional venting, side feeding and complete process feed systems for volumetric, gravimetric weigh blending or starve feeding of the materials provided as required ...
READ MORE…
Send Products Inquiry to Us
To provide with better services, pleaser fill out the form below.