EM3-3505-CMT Cement 3D Printer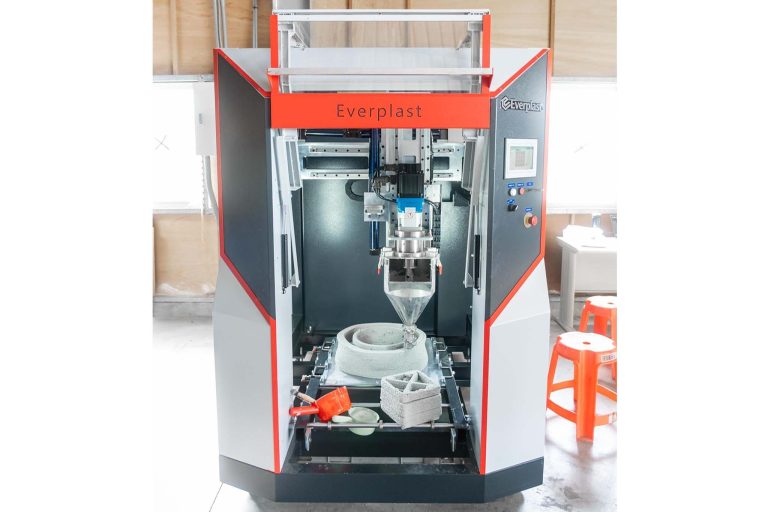 Everplast has successfully installed a set of EM3-3505-CMT Cement/Cement-Like mortar/slurry 3D Printers for our new customer in Taiwan.
Our customer, Lotos specializes in providing cement/cement-like raw materials. With Everplast's Cement/Cement-Like mortar/slurry 3D Printer, it can be applied to various cement/cement-like recipes, even different recycled materials. By adjusting the output and printing speed, Lotos catches the best forming conditions and complete the printing to carry out the ideal & creative products for their customers.
In addition to the compact machine size, Everplast's cement/cement-like 3D printer's convenience of cleaning seized everyone's attention on the day it was installed. A simple machine design that integrates 3-axis structure helps not only to save working space but also facilitate the operation. The printing area, 500*500*500mm enriches the variability of design and realizes various creative ideas. The special water tray and quick-release buckle design facilitate the cleaning of printers and shorten the working hours to reduce the labor cost and energy consumption. Exclusive control software is compatible with different slice software. It is easy to import the G-code/M-code to the printers.
Considering the circular economy and the application of green materials, Everplast hopes to contribute more to environmental issues. Everplast will devote itself to sustainable development and building a better future.
Material: Cement/Cement-Like mortar/slurry
Application: For outdoor & indoor decoration purposes
Send Products Inquiry to Us
To provide with better services, pleaser fill out the form below.