PE Steel Wire Pipe Extrusion Machine Line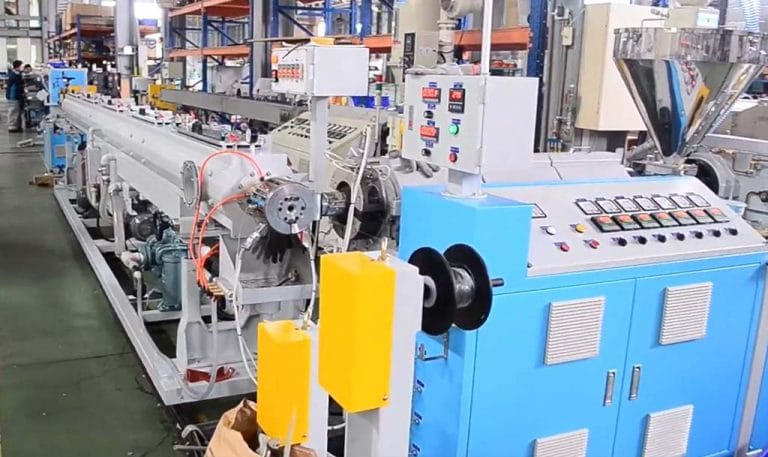 The application of the PE steel wire pipe is to protect wires and cables in walls, by tying and fixing one end of the cable to avoid it from moving. Using PE plastic materials in conjunction with EMS-55 single-screw extruder or EMS-6533 high-performance single-screw extruder, the production capacity can reach 30~250kg/hr (depending on product size and raw materials), the finished product size with an outer diameter of 11mm~32mm. The special mold runner design with the built-in human interface not only allows wires to easily pass through the mold, but control storage parameters, and the hardness of the nitriding treatment of the material tube. The groove design increases production capacity. Finally, the tension controller is used with the winding machine to arrange the tube winding neatly and easy for customers to sell. The machine line is sold in Saudi Arabia, Morocco, Togo, Senegal, Ivory Coast, Angola, etc, and is currently one of the favored and widely used ones in the construction industry.
PE Steel Wire Tube Extrusion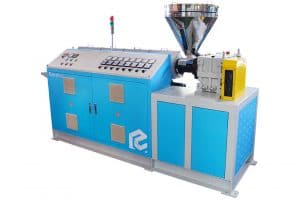 SINGLE SCREW EXTRUDER MACHINE We provide EMS-15 ~ EMS-200 different models of single screw extruder for customer needs. Send Products Inquiry FEATURES PVC counter rotating twin extruder available in sizes of EMD-65, EMD-90 and EMD-130 for profile and compounding, output ...
READ MORE...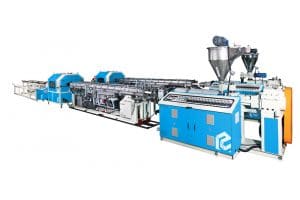 pipe Extrusion Machine Line The pipe extrusion line uses materials such as PVC, HDPE, LDPE, PE, PP, ABS, PS, PC and PMMA to extrude products in accordance to market needs and the characteristics of the plastic materials. Send Products Inquiry ...
READ MORE…
Send Products Inquiry to Us
To provide with better services, pleaser fill out the form below.