PVC Pipe Extrusion Machine Line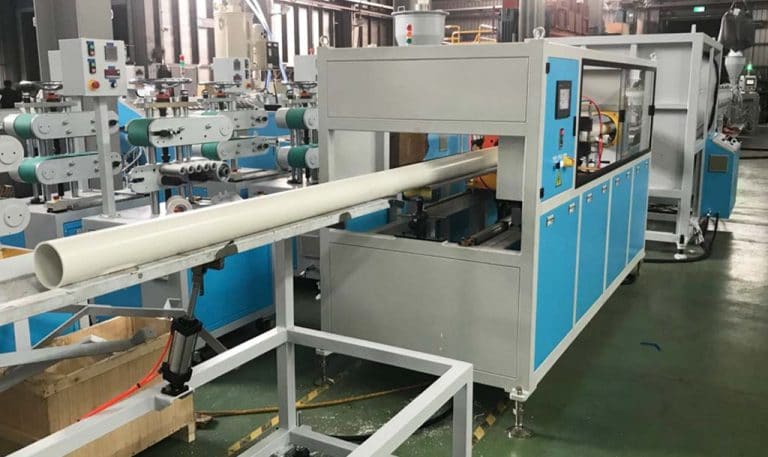 Everplast, Taiwan, produce the PVC Pipe Extrusion Machine Line​ which could extrude the pipe with OD16 to OD630mm. The application is for water pipe, industrial pipe and telecom pipe …etc. Our production line is successfully delivered to five continentals, such as Togo, India, Philippine, Saudi Arabia, Qatar, Thailand, Ivory coast, Myanmar, Japan, China, Vietnam, Sudan, and Indonesia …etc. Everplast is deeply loved by customer that we design and manufacture the production line from their prospective.
Everplast provide twin screw extruder, EMD-65, EMD-75, EMD-90, EMD-110, EMD-130 and conical twin screw extruder, EMD-65C with capacity from 60 to 1,000 kg/hr. (The capacity could be adjusted according to customer's demand on spec.) To feed the PVC material smoothly, we take bridge breaking design. And in metering zone, using temperature controller to keep the sticky character of material and make it pass through smoothly. For haul-off unit, we take special caterpillar design to maintain stability in the production. Besides, to satisfy different customer demand, we also provide post-processing equipment, such as, Belling Machine, Printing Machine, High Speed Mixer, Crusher, Ink Printer and Laser Maker …etc.
Feature:
1. To provide professional plane for turn-key project with belling, printer, mixer, and crusher.
2. To control the screw rotation per minute for evenly thickness of pipe OD.
3. For stable material output and decrease ripple, we use mold temp. controller.
4. There's PLC+HMI control available for more convenient operation.
5. Equipped with temp. controller and automatic water level balance system for cooling water.
6. We do have cover for main operation panel to prevent dust pollution.
EMD-90 PVC Pipe Extrusion Machine Line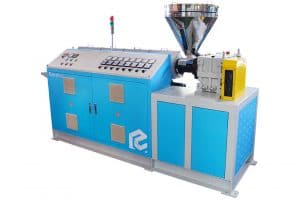 SINGLE SCREW EXTRUDER MACHINE We provide EMS-15 ~ EMS-200 different models of single screw extruder for customer needs. Send Products Inquiry FEATURES PVC counter rotating twin extruder available in sizes of EMD-65, EMD-90 and EMD-130 for profile and compounding, output ...
READ MORE...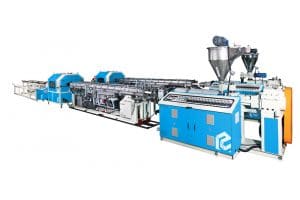 pipe extrusion machine The pipe extrusion machine uses materials such as PVC, HDPE, LDPE, PE, PP, ABS, PS, PC and PMMA to extrude products in accordance to market needs and the characteristics of the plastic materials. Send Products Inquiry FEATURES ...
READ MORE…
Send Products Inquiry to Us
To provide with better services, pleaser fill out the form below.