Trunking Extrusion Machine Line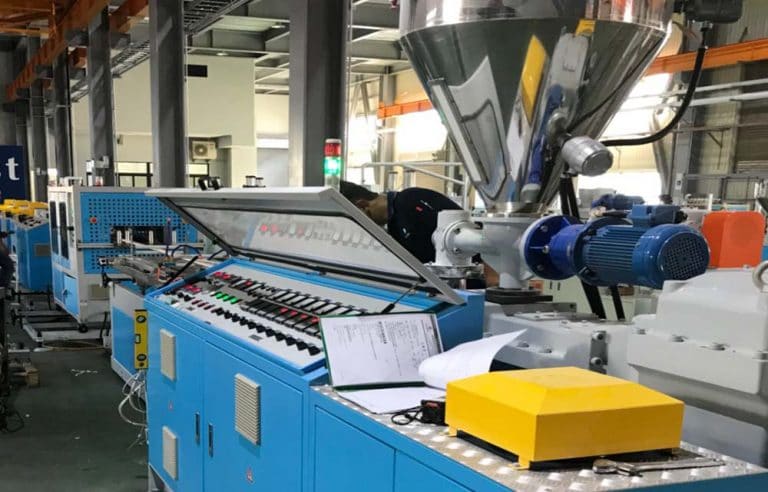 Everplast has recently completed the installation of the Vietnam PVC trunking line. The customers have extensive experience in exporting and are the telecommunications material suppliers in Vietnam. The customer has ordered a total of 6 sizes, ranging from the smallest 15mm wide trunking to the medium and large 50mm wide trunking. To improve productivity, they specifically ask for the assistance of Everplast to customize double layered co-extrusion trunking machine line.
Although the double-layered co-extrusion trunking machine line can significantly increase the production speed, its difficulty is much greater than the traditional single-layered machine line. The machine line is designed with a trunking co-extrusion. The design must match the extrusion speed of the precision mold to meet the ideal requirements.
To match multiple sizes of finished products, the haul-off unit, and the saw cutter adopts co-extrusion machine design and the track-based way so that customers can adjust the center degree according to the size of the finished product. The customer is very satisfied with the customized design, which not only improves its productivity but also can be applied to multiple finished products on the same machine reducing production cost.
1/4 of the R&D design team is the powerhouse of Everplast. Given the opportunity of multiple in-vestment research and development plans, cross-industry cooperation, and obtaining several patents, we can anticipate the needs of customers to provide exceptional customer services. To meet custom-ers' demand, we construct systems of technology, information, and services, integrating resources to provide professional and complete solutions with automation, stability, efficiency, etc.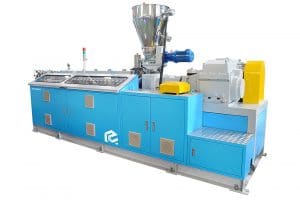 Parallel Type Twin Screw Extruder Machine We provide the EMD-65 ~ EMD-130 parallel twin-screw extruder machine of different models for customer needs. Send Products Inquiry FEATURES PVC twin screw extruder available in sizes of EMD-65, EMD-90 and EMD-130 for profile ...
READ MORE…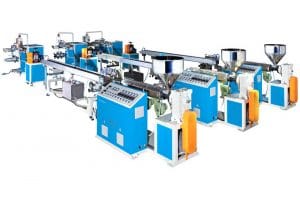 PROFILE EXTRUSION MACHINE LINE Everplast Profile Extrusion Machine Line can produce plastic products that can be applied in a wide range of industries, including building materials, stationery, furniture, medical equipment, and home appliances, etc. Everplast offers a complete line of ...
READ MORE...
Send Products Inquiry to Us
To provide with better services, pleaser fill out the form below.